My Name Is In This Story
Personalized Stories and eBooks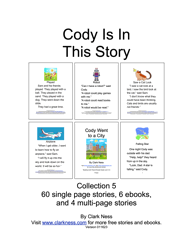 Collection 5

60 single page stories, 6 ebooks, and 4 multi-page stories

If you don't see your name in this collection of stories and ebooks,

have an adult send me an email with:

1. Your first name

2. If you are a boy or a girl

e-mail: clarknesscom@yahoo.com

(Email addresses are not shared with any other person, company, or organization.)

I will put your name in the stories and email them back to you.

(Click here for previous versions of My Name Is In This Story)
If you don't see your name in this collection of stories,
have an adult send me an email with:
1. Your first name
2. If you are a boy or a girl
e-mail: clarknesscom@yahoo.com
(Email addresses are not shared with any other person, company, or organization.)
I will put your name in the stories and email them back to you.
I will also put your stories up on this website.
Have fun reading!
Clark Ness